21 Feb

5 Times Truck Drivers Saved The Day

There are two groups of people that see more of every city than anyone else: law enforcement and truck drivers. With over 800,000 truck drivers and 650,000 police officers as of 2018, you can see a semi truck on any street corner before you'll see a police officer. Because of this wide reach, truck drivers are often the first people on the scene of an emergency. This creates some great opportunities for drivers to save lives, aid those in need, and put some extra good out into the world. Here are 5 fun stories of truck drivers saving the day.
1. Suicide attempt on I-696 in Michigan
In mid April of 2018, Michigan troopers received a call about a man standing over an overpass on I-696, seemingly wanting to jump into oncoming traffic to commit suicide. By the time law enforcement was on the scene, they saw something incredible: 13 semi trucks all parked side-by-side under the overpass, stopping traffic and halting the man's attempts to jump. Officers were able to talk the man down shortly afterward. This incredible life-saving moment would not have been possible if truck drivers weren't vigilant enough to work together in such a critical moment. 
2. Trucker saves woman from sex trafficking
Kevin Kimmel pulled into a gas station in Virginia on an early January morning in 2015. He recalled the parking lot being rather quiet but noticed an unusual RV parked nearby with blacked out windows. He witnessed a man approach the vehicle and knock before entering. A few moments later, it began rocking back and forth. He caught a glimpse of what appeared to be a minor before the curtains fell back into place. He immediately called the local sheriff and watched as they approached the vehicle, escorting a woman away that Kimmel described as being "in very bad shape". It was months later that he learned that he had saved a 20-year-old woman that was kidnapped from her home in Iowa and held against her will. Without Kevin's observant eye and willingness to speak up, there's no telling how long the woman may have been held captive.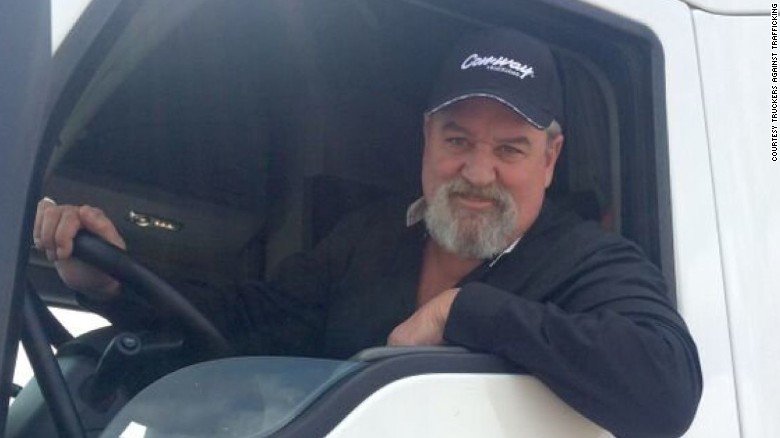 3. Trucker drives burning vehicle to remote area before it explodes
Randall McDougall was a 63-year-old truck driver that didn't think twice before putting others' lives before his own. As he was driving through a small Arkansas town, McDougall's brakes caught fire. His cargo in tow was a chemical used in fertilizer and was very flammable. Without thinking twice, he called 911 as he sped away to get as far as he could from the homes on either side of the road. After getting some distance from the homes and arriving on a remote stretch of road, McDougall began trying to extinguish his brakes before the flames made their way to the chemicals. As firefighters were pulling up to the scene, McDougall was still doing everything he could to control the flames as the fertilizer chemicals exploded, creating a 15-foot crater in the road and killing him instantly. The blast was felt further than one mile away and caused injuries to three firefighters as it blew out the windows on their fire truck. Authorities and the public were quick to recognize McDougall's actions that saved countless lives and he'll always be remembered as a hero. 
4. Military veteran turned truck driver saves fellow trucker's life
Ricky Shearer served two tours overseas serving his country before transitioning into life as a truck driver. As he was waiting in a Walmart parking lot in Mebane, NC, Shearer heard a woman's scream and immediately jumped out of his truck to follow the direction of the screams. What he found was a married couple that teamed for KLLM Transport. The man was on the ground, suffering from an apparent heart attack. Shearer's training immediately took over and he pushed the woman aside as he began to perform CPR. While relentlessly working to save the man, Walmart employees came outside with a defibrillator and Shearer shocked him twice. EMTs were soon on the scene and Shearer watched as they attempted to save the man before announcing that he had passed. Shocked and sad, he returned to his truck. A short time later, one of the EMTs knocked on his door and reportedly said, "Son I don't know who you are, but God put you here for a reason. You saved his life". An outstanding act of courage from a trucker that has spent his entire life serving others. Ricky Shearer is truly a hero. 
5. Simon Transport driver saves a baby's life
As we were preparing this blog post for publication, we learned that one of our very own drivers performed an amazing act of service. Bill Windish is not a man that enjoys praise (believe us, we try to praise him all the time), so we had to pry some details out of him about his experience. 
On the morning of February 12th, Bill and his wife were driving on I-55 in Illinois when they saw a brutal accident unfold in front of them. The freeway was at a stand-still due to a large pile-up ahead of them. With all traffic stopped, one railway utility truck was parked in the hammer lane. In the blink of an eye, Bill witnessed a car driving at full speed as it was met by the utility truck, obliterating the front end. Bill wasted no time as he sprinted to the vehicle. As he peered through the windows, he couldn't see anyone in the driver's seat because of how mangled it was. What he could see, though, were a few scattered baby toys. The driver's infant child was still buckled in the back seat. Leaving not a moment up to chance, Bill climbed through the window, cut the seat belt, and pulled the infant to safety as first responders were arriving on scene. The infant is healthy and the driver was life-flighted away from the scene with non-life threatening injuries. We're wishing the driver a full recovery. 
The experience understandably shook Bill and his wife, but we at Simon Transport are so grateful for them and proud of their quick action to save a life. You're a hero, Bill, and thank you for all that you do on a daily basis!